Hyundai Kona EV priced for Australia: how do we stack up?
2019 marches on and the EV market continues to grow. Many Aussies were excited to hear that the much-anticipated Kona EV has been officially priced by Hyundai, coming in at $59,990 before on roads for the base model.
There's a long-held sentiment in Australia that we're paying too much for electric vehicles, but with the release of these mass market models, we need to have a look at the underlying value.
There are generous government subsidies enjoyed by many of our overseas neighbours. The UK offers a £3500 subsidy on electric vehicles; even the gas-guzzling USA provides a tax credit of up to $7500 for every EV sold. Meanwhile Aussie EV owners are hit with taxes like the luxury car tax and stamp duty, with no incentives in sight.
Value for money
Hyundai have made a genuine effort to make the 2019 Kona worth the asking price. It includes the Hyundai SmartSense safety package and an 8-speaker Infinity audio system as standard, and the premium Highlander variant offers wireless smartphone charging, a glass sunroof, heated front seats & steering, and an eye-catching heads-up display.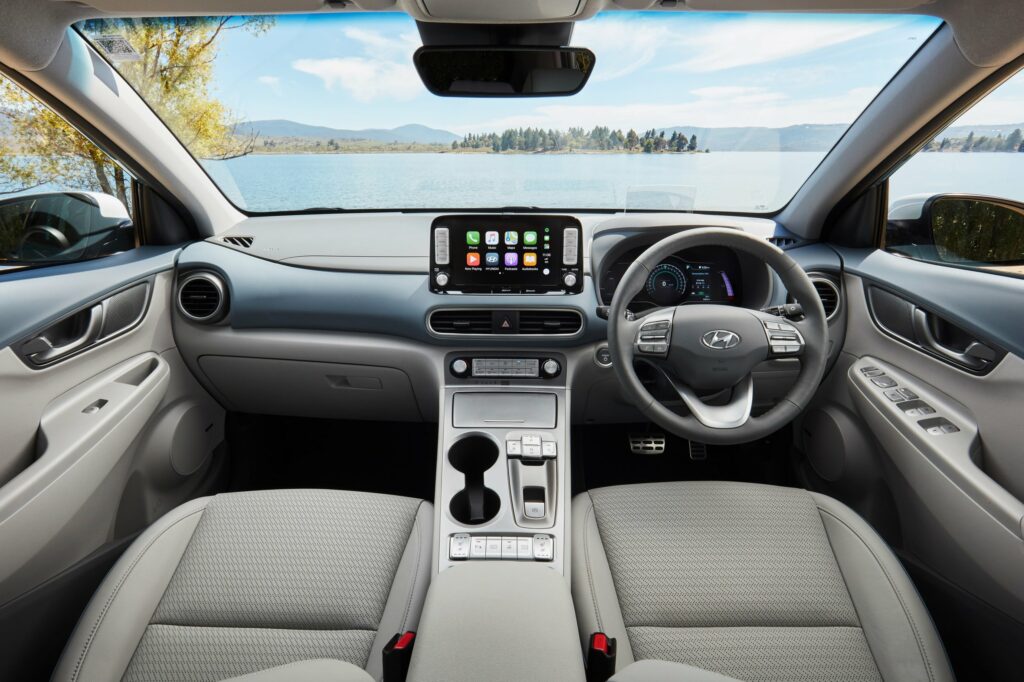 But the real selling point of the Kona is its EV credentials. These are the specs that Hyundai put the most time into, and the results are certainly impressive; 395 NM of torque allows for a pacey 7.6 second 0-100km/h, and the 64 kWh battery delivers 449 km of real-world range (based on WLTP testing). Highway road trips aren't so far-fetched with that kind of range, especially when a 100 kW fast charger can get you to 80% charge in 54 minutes.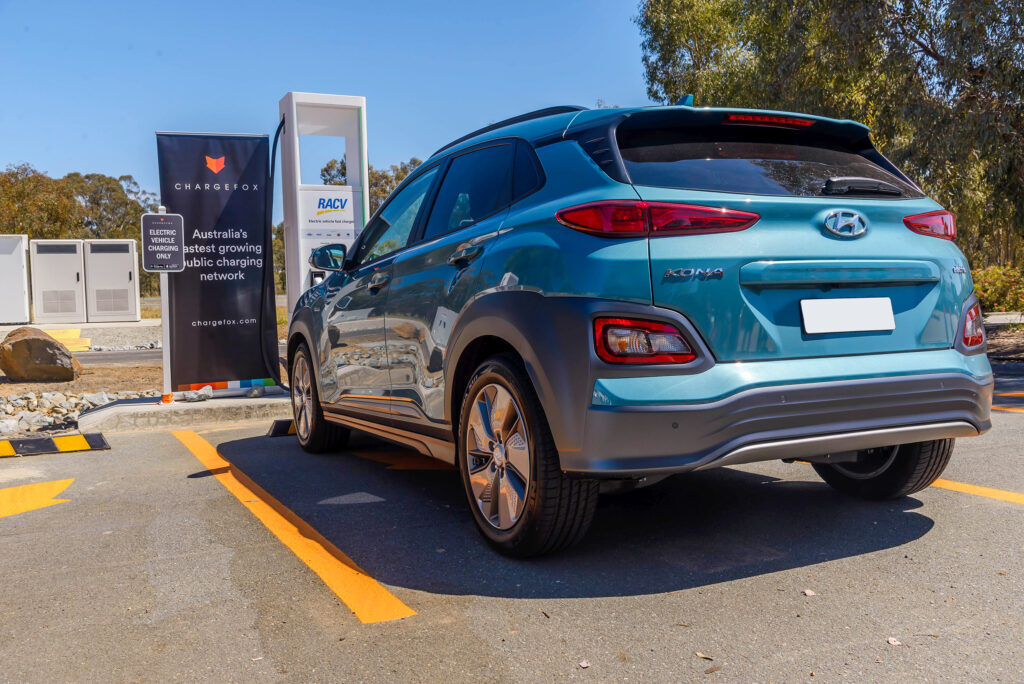 Stacking up
The Ioniq, Hyundai's other electric offering, is currently the cheapest EV available in Australia – but is also a fundamentally different offering to the Kona.
While the Ioniq doesn't offer the range or the SUV specs of the Kona, it does deliver many of the features that EV adopters are looking for: 230 km of real-world range is enough for commutes and short expeditions, and the 9.9 second 0-100km/h is more than sufficient for most suburban drivers. It's also worth mentioning that almost all of the Kona's internal toys have made their way to the cheaper model including an Infinity audio system, an 8" touch-screen centre display, and Hyundai's signature safety features. So it's really a personal decision about the value of the vehicle.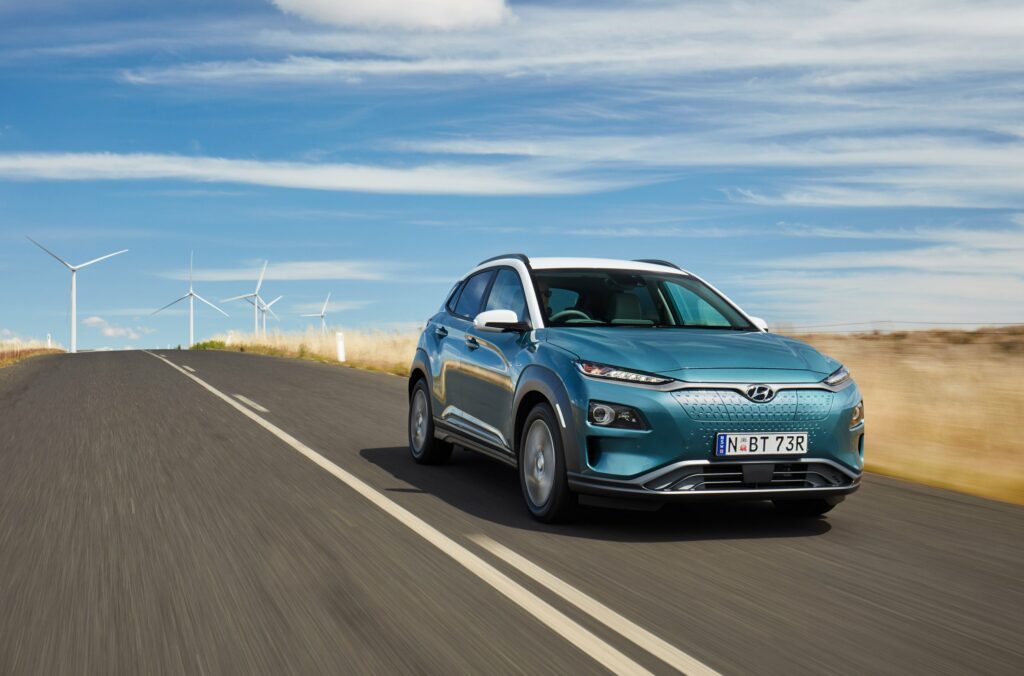 But what about the Australia tax?
Ah yes, the much-maligned premium that's keeping EVs prohibitively expensive for Aussies. While it does certainly exist (there's no getting around stamp duty without an ACT license), it might not be as bad as you think for the Kona — although that is a matter of perspective. UK customers, even with their £3500 government subsidy, can expect to pay £29,495 for the base model Kona EV. At current exchange rates that comes out to about $55,000 AUD. Even electric-heaven Norway, with their vast collection of incentives, gets the Kona for upwards of 325,900 kr (approximately $54,000 AUD).
The message here is pretty straightforward; Australians are paying more for EVs, but a moderate tax incentive or subsidy would go a long way toward eliminating the discrepancy and making a more environmentally & economically sustainable future.
But we can't blame the entire difference on incentives. Australia's unique geography and regulations often force changes to be made to some models; we know that the Kona boasts a local chassis tune for optimisation across Aussie roads. In addition, our island status and isolated cities make imports a difficult prospect for many automakers, particularly those based in Europe.
Ultimately, the value of the Kona EV is an extremely personal and contextual judgement. We're excited to see them on our roads this year, and we're eager to find out how the Kia e-Niro and Tesla Model 3 compare once more details are revealed.
Take a look at our other articles on https://jetcharge.nz/blog, and be sure to check back regularly for more industry news and updates from the EV space.