Electrifying your fleet just got easier- Government funding now available
The Australian Renewable Energy Agency (ARENA) has launched Round 2 of their ambitious Future Fuels Program, this time aimed at helping fleets electrify, by providing a grant for commercial Electric Vehicle (EV) charging infrastructure.
*The grant application process might seem overwhelming, but JET Charge is here to help- please read on and get in touch below.
What is it?
On February 21 2022, the Australian Government Renewable Energy Agency (ARENA) launched the Future Fuels Program, providing up to $127.9 million to support the integration of battery electric vehicles in light and heavy vehicle fleets and commercialise hydrogen as a transport fuel.
The funding can be used for:
Demonstration and deployment projects
Enabling infrastructure (charging infrastructure, electrical upgrades, managed charging costs)
Acquisition of heavy vehicles
The program is open for applications now and ongoing until 22 December 2022. The application process has two stages with an Expression of Interest and Full Application. Applications are expected to be assessed every two months.
The minimum grant is $1 million, meaning the total Project value should be over $2 million given that applicants are expected to at least match the funding being sought. Eligible expenditure includes both direct and non-cash/in-kind but does not include the EV price premium for light vehicles. There is no limit to the amount of grant funding that may be used for eligible Project costs.
Consistent with previous ARENA funding programs, merit criteria that will be used to assess applications are:
Contribution to the Program Objectives
Applicant Capability & Capacity
Project Design and Methodology
Financial Viability and Co-funding Commitment
Knowledge-sharing obligations and plan, as requirements of the funding agreement.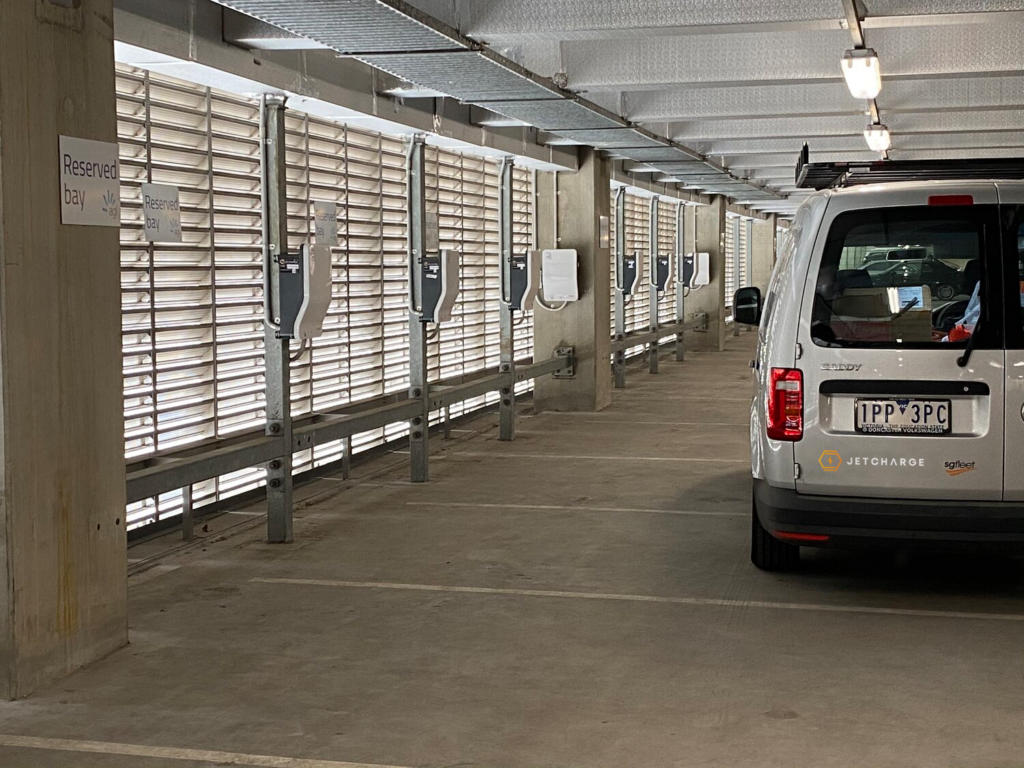 Who should apply?
Any fleet that is looking to take on EVs should seriously consider applying for this fund.
With carmakers committing to phase out production of Internal Combustion Engine vehicles, fleet electrification is inevitable. Unlike traditional fuels, EVs are most easily charged (refueled) at their regular place of parking. This means fleet managers must now consider EV charging infrastructure, the cost and complexity of which has been cited as the biggest obstacle to EV adoption aside from the temporary issues of vehicle cost and choice (AfMA 2020).
ARENA may experience a very high volume of applications, especially if vehicle OEMs bring more volume to market, causing funds to run out faster.
For the fleets who take advantage of it, the Australian Government funding solves the cost problem. JET Charge- Australia's leading EV charging solution provider- can also solve the complexity and help access the funding.
How can JET Charge help?
JET Charge has deep experience with ARENA programs and agreements, having led or been the key delivery partner for 4 projects with a total value over $40 million. We recently closed our $25 million Series B investment round, allowing us to grow within the market and enhance our leadership position. We have unparalleled depth and breadth to support nationally with turn-key solutions.
JET Charge is seeking to work with customers and partners for ARENA funding opportunities:
Aggregate smaller customer projects into larger bids that meet the $2 million minimum value criteria
Work with large customer to enable complex projects valued over $2 million
We are drawing on our deep subject matter expertise, end-to-end capabilities, and vast experience in successful ARENA engagement and project delivery as key enablers for a series of application through the life of the program.
If successful, the nominal timeframe from submission of an EOI to completion of an ARENA funding agreement is 4-8 months (refer below). Supply and installation charging infrastructure will take an additional 2-3 months beyond this. Given that ARENA's first EOI assessment unfolds around Easter 2022, this implies the earliest funded infrastructure will be installed around the start of 2023. Recognising the funded infrastructure lead-time and finite funding pool, JET Charge has already begun working with interested fleet operators for non-binding EOI submissions. To participate, fleet operators will need to have resolved their expected vehicle turnover schedule for design of replacement EV charging requirements. We have partners who can assist with fleet overturn planning.
Should you be interested in finding out more, please contact us below.
JET Charge's reaction
We are extremely happy about this! Finally, a large, federally coordinated program concentrating on fleets.
Whilst we LOVE public charging, we know that most of the charging of EVs is done in private, often overnight, when everyone is asleep.
Fleets going electric also has huge benefits for consumers, when those well maintained vehicles hit the consumer market as second hand vehicles.
Fleets buying EVs also means greater volumes for the Australian arms of vehicle manufacturers, which means Australia can secure greater volume of EVs into the country, in a globally supply constrained market.
Contact Us
"*" indicates required fields